The Grande Prairie Tennis Club is excited to offer lessons for the 2018 outdoor season.
We will provide a fun, active, safe and challenging environment for your child and introduce tennis in a "progressive" approach which allows early success through the use of scaled down equipment and courts.
Please see information below for lessons and the fee structure associated.
---
Ann McLeod 
Junior Instructor: 13 Years and Younger
Ann McLeod is a lifelong resident of Grande Prairie.  She taught, coached and counseled at Grande Prairie Composite High School for 8 years.  Ann is a USTA 3.5 level tennis player, has Level 1 coaching from ATGA (Arizona Tennis and Golf Academy), 5 years experience teaching beginner seniors and won the East Valley Senior Tennis League 3.0 women's doubles, 3.5 mixed doubles and a silver medal at 2015 Alberta Senior Games.
Ann is passionate about coaching and is donating her time to do so.   All fees paid stay within the club.
Sue DeSchipper
Junior Instructor/Adult Beginner
Originally from Vancouver Island, Sue DeSchipper has been a resident of Grande Prairie for 30 years.  Sue has coached boy's soccer for 6 years, worked in the Dental field for 36 years; 17 of those in Public Health working with children. An avid tennis player, Sue has been involved with running the Grande Prairie Tennis club for 12 years and is currently the clubs Secretary and the facilitator of our major tennis tournament for the past 10 years.
Sue is certified with Tennis Canada – Level Pro 1.
Brooke MacKenzie
Brooke started started playing tennis with her mom when she was 12 years old.  Brooke played on her high school tennis team for a couple of years and helped organize a summer league in her home town.   She previously worked at an all- inclusive summer day camp, ages 3-12, for 7 years. While Brooke doesn't have "official" coaching experience, herself, along with a fellow counselor, taught kids who were interested in learning the sport after camp.  Currently she works in forestry and enjoys days spent outside.
Brooke is very excited to assist our instructors with lessons and to introduce the sport to some new faces.
---
Junior Lesson Fees: 6 – 12 Year Olds
$195 per child for a total of 13 lessons.
Lessons are scheduled on Mondays and Wednesdays as follows:
DATE:  May 7 – June 27*     *Excludes May 21, 23 and 28
TIME: 3:45 – 5:00 PM
REGISTRATION DEADLINE:  May 3, 2018
Lessons must be paid for in full, in advance before any session can take place.   Please only proceed with lesson registration if you have already made arrangements with the instructor.  Registration and payment for Junior Lessons can be made through our online system by clicking here.
For more information on lesson structures, fees and schedules please contact the club directly at lessons@gptennisclub.com.
---
LADIES DROP IN NIGHT 2018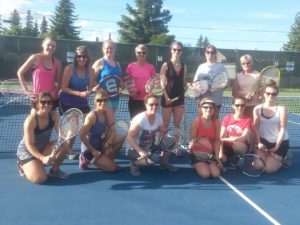 This is your chance to give it a try – beginner's welcome!
Tuesday nights: 5:30PM – 7:00PM
May 8 to June 12
$10.00 per night / No charge for Members
"Mini-Lesson" included each night
Where: GP Outdoor Tennis Club – 9109 – 101 Street (beside Swanavon School.  Park at D-Coy Armouries and walk across the field).
Racquets/balls supplied (limited amount available).
Bring your own racquet if you have one.
If you would like to try a night please get in touch and we will help get you started!  We are excited to have new people take initiative to keep our club alive with new creative ideas!!!
Contact Sue for more information: lessons@gptennisclub.com