The Grande Prairie Tennis Club is excited to offer junior lessons for the 2017 outdoor season.
Please see information below for junior lessons and the fee structure associated.
---
Junior Instructor: Ann McLeod 
13 Years and Younger
Ann McLeod is also a lifelong resident of Grande Prairie.  She taught, coached and counseled at Grande Prairie Composite High School for 8 years.  Ann is a USTA 3.5 level tennis player, has Level 1 coaching from ATGA (Arizona Tennis and Golf Academy), 5 years experience teaching beginner seniors and won the East Valley Senior Tennis League 3.0 women's doubles, 3.5 mixed doubles and a silver medal at 2015 Alberta Senior Games.
Ann is passionate about coaching and is donating her time to do so.   All fees paid stay within the club.
---
Junior Lesson Fees:

Please call Ann McLeod at 780-532-6331 for more information and you will be kept on a list to determine if group lessons will be offered. Once that is determined you will be contacted and advised as to when the lessons will be offered and your cost.
After school (4:00 pm) during May and June seems to be a time that works the best, unless you would like a private lesson, in which case there is more flexibility.
Cost per lesson/s depends on the group size as indicated below.
1 on 1 lessons : $30 per hour
2 players: $20 each child per hour
3 players: $15 each child per hour
4+ players: $10 each child per hour
Lessons must be paid for in full, in advance before any session can take place.   Please only proceed with lesson registration if you have already made arrangements with the instructor and have confirmed the number of lessons and the lesson structure you are required to pay for.  Registration and payment for Junior Lessons can be made through our online system by clicking here.
Schedules will be confirmed upon contact but there will most likely be availability on weekends as well as some afternoons/early evenings.  Peak court times (between 6-9 weeknights) will be the priority of paid members and no lessons will take place between those times unless otherwise organized.
For more information on lesson structures, fees and schedules please contact the Ann directly or for general inquiries contact lessons@gptennisclub.com or phone (780) 832-6312.
---
Also, our Club feels a real need to have a set Saturday time for "Kid's Tennis".  If you, or someone you know, would like to volunteer to oversee this, please contact (780) 832-6312 or lessons@gptennisclub.com  
---
LADIES DROP IN NIGHT 2017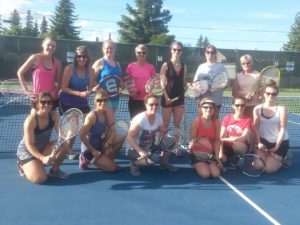 This is your chance to give it a try – beginner's welcome!
Wednesday nights: 6:00PM – 7:30PM
May 10th to June 14th
$5.00 per night / No charge for Members
"Mini-Lesson" included each night
Where: GP Outdoor Tennis Club – 9109 – 101 Street (beside Swanavon School.  Park at D-Coy Armouries and walk across the field).
Racquets/balls supplied (limited amount available).
Bring your own racquet if you have one.
If you would like to try a night please get in touch and we will help get you started!  We are excited to have new people take initiative to keep our club alive with new creative ideas!!!
Contact Sue for more information: info@gptennisclub.com